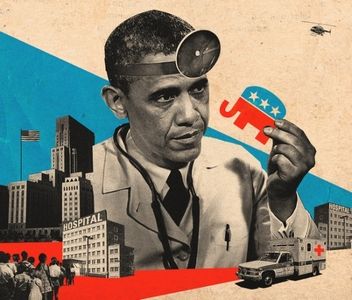 THE HEALTHCARE PLAN IS STILL A JOKE...BUT GET READY...
IT IS COMING...

The words in "RED" represent my thoughts on the issue...
On Tuesday, the health insurance exchanges that are a cornerstone of President Barack Obama's Affordable Care Act will open for the first time, and the White House expects 7 million uninsured people to sign up during the six-month enrollment period.
There is no way of knowing how many will actually sign up. This is a figure that comes from Washington, so it has zero possibility of being accurate.
But don't fret if you have no idea what these exchanges are — you are not alone. In August, 45 percent of people polled by Kaiser said they had heard "nothing at all" about the health insurance marketplaces mandated by the law.
Yes, the confusion begins. No one knows much about this system.
Here's a guide to the exchanges:
What is the health insurance exchange?
The health insurance exchange, or marketplace, will allow people who don't have coverage through Medicaid, Medicare or their employer to comparison-shop for the best individual plan in their state on HealthCare.gov. In 34 states, the exchanges are managed entirely or mostly by the federal government; the other 16 states have set up their own exchanges.
About 95 percent of uninsured people will have a choice between at least two insurers offering an average of 53 different plans, according to the White House.
The plans are divided into four categories: bronze, silver, gold and platinum. A bronze plan — the cheapest — covers 60 percent of an individual's estimated health care costs, while the platinum plan will cover 90 percent of costs. (Some states also offer catastrophic plans that cover even less than 60 percent of costs.)
Let me get this straight. The Federal Government totally renovated the healthcare system in America because they said many had plans that did not provide adequate coverage as they told us that it was unfair for the insurance companies to not cover certain medical concerns. And now, we are told with this renovated system that with the "bronze plan" (the cheapest insurance), it will cover 60% of our healthcare needs, and with the "platinum plan" (the most expensive insurance), it will cover 90% of our healthcare needs. It seems that the previous problem of having insurance that will not cover all medical needs has not been corrected.
Starting in 2014, insurers cannot charge customers more based on their pre-existing conditions or their medical history, and all plans must offer a minimum of services, such as maternity care, that some plans did not offer in the past.
The insurance companies may not be able to charge you more for pre-existing conditions, but the healthcare plan does not dictate that the insurance companies will not charge higher rates, in general. What will happen is that, as with any business, prices will increase that will allow a profit margin that is acceptable to the company, and as it applies to the insurance companies, the government does not dictate what they will be able to charge. The eventual increases with insurance premiums (and those increases will come) will take in consideration the pre-existing conditions and the increased prices will target everyone, (not just those with pre-existing conditions) and it will simply not be labeled as an expense for pre-existing conditions. I have stated from the beginning that the cost of healthcare is going to skyrocket, and that will be understood by others when it happens to them, personally. The insurance companies are not going to absorb the tremendous added mandated coverage costs, nor should any thinking person anticipate that as being a coming reality.
Do I have to buy health insurance on the exchange?
If you're uninsured, you have to purchase health insurance or face a fine of $95 or 1 percent of your income; whichever is larger, on your 2014 tax return. (That fee will go up to 2.5 percent of income in 2016.) Consumers making up to four times the federal poverty level will qualify for tax breaks when they purchase the insurance, to offset the cost. If purchasing insurance would cost more than 8 percent of your income, including the tax break, you're exempt from the fee.
This is what the common people need to understand. The government does not give a damn if you purchase insurance, or even if you have insurance. Why are they saying that you can simply give them money if you do not purchase insurance? With almost every scenario related to this deceptive legislation, there is an alternate option of giving the government money. This applies to both individuals and to businesses that will inevitably eliminate employees or lower their hours to avoid the mandate of providing them with healthcare insurance. As stated above, those whose insurance costs would be more than 8% of their income; they would be exempt from the fee. This is the poverty level, people. They do not have the money to give the government in the first place, so this is simply stating the obvious.
There is a reason that the Internal Revenue Service has been placed as the "collection agency" for the entire healthcare plan. They not only anticipate many simply paying the fine, (for not purchasing a product or service) but also have taken steps to make sure that you pay those fines. And with IRS, as with your regular taxes, nonpayment can result in actions by IRS, including liens placed upon your private property and the freezing or access to your banking accounts.
How much will it cost?
The costs for insurance will vary widely by state, and even by county. The White House estimates that the average monthly premium for a low-cost silver plan will be $328 a month for an individual, before tax credits are applied. A family of four with an income of $50,000 before taxes could pay as little as $205 a month for insurance in Alaska, after the tax credit is applied, and as much as $282 in North Carolina and several other states. (Before the tax credit is applied, the price for the family varies from $584 per month in Arizona to $1,237 in Wyoming.)
With tax credits and including the Medicaid expansion, nearly six out of 10 uninsured people will have access to a health plan that costs under $100 per month for next year.
BLAH, BLAH, BLAH…AND I HAVE A BRIDGE THAT I WOULD LIKE TO SELL YOU. I suggest that you take a look at what you are currently paying for healthcare insurance and then look later at what you will be paying after about four years. If you think the private sector of America is going to let the government dictate their profit margin, you are about three steps beyond reality. If you purchase healthcare insurance, the costs will be locked in for the year 2014, but the price can increase after the end of the year if the insurance company determines that it wishes to do so. Again, there is nothing in the healthcare bill that will limit the costs of healthcare insurance, and the price will go up with every chance that comes along, just as it has always been.
You can peruse the White House's premium cost estimates by state on its site, but be aware the figures cited are averages for the entire state and might be different based on which county you live in.
In other words, the figures that you will see are meaningless and may not apply to you.
How do people enroll?
In order to process millions of applications, the Obama administration built a website called HealthCare.gov where applicants can comparison-shop for insurance offered in their state.
Users log in and create an account and are then asked a series of questions about their income, family size, employer name and contact information. The site connects to other federal agencies' databases to verify the information provided, and it then informs the user if he qualifies for Medicaid or the Children's Health Insurance Program. If not, the user is then directed to the marketplace, where he can compare different plans and see exactly what tax break he qualifies for and how much the insurance would cost per month. If you decide to purchase the insurance, you're led to the website of the insurer to finish the transaction.
There's also a 24-hour hot line people can call if they have any questions while navigating the application process, which can assist them in 150 languages. The Obama administration also doled out millions of dollars in grants to train "navigators" who work in community health centers and other locations to enroll people in person.
Uninsured people will have six months to enroll starting Oct. 1, but must enroll before Dec. 15 if they want the insurance plan to kick in on Jan. 1.
Get ready…This is another thing that I have warned many about with this healthcare plan. The Federal Government will have every piece of data there is about you. This is a database that is in place to do precisely that, and you will have no secrets.
Can the insurance prices change?
The insurance price quoted on the health care site is locked in for 2014 and can't change. Next year, the insurer could change the price, but consumers also will have the option to shop around again and switch plans.
I addressed this in an earlier statement.
Will the enrollment website work?
The Wall Street Journal reported last week that the computer system was not accurately calculating the costs of the insurance plans. But David Simas, White House deputy senior adviser for communications and strategy, says these bugs are being ironed out and that the exchanges will be ready to go on Oct. 1.
Another obvious deception. If the computer system cannot accurately calculate the costs of the insurance, how do they know how much it will cost, much less if that cost will represent a decrease or an increase?
Conclusion: I have been opposed to the healthcare plan from the beginning, and it was originally for the fact that the Federal Government has no business in taking over any part of the private sector. In reality, the government has invested in the insurance industry with this legislation, and they will receive funds because of that factor. If someone cannot afford healthcare insurance, why would they make them pay a fine for that financial condition?
There are businesses that understand that they will be required to provide healthcare insurance for their employees if they have at least 50 employees. Many of these businesses have made it clear that they will eliminate employees to avoid that provision and will simply pay a fine for each employee that will be $2,000, but is less than paying for their actual healthcare insurance. Now, we will have people not only without healthcare insurance, but will also unemployed and unable to purchase insurance on their own. Many large corporations have promised to eliminate employees to allow for the increase that is related to providing healthcare insurance for their employees. Sprint says they will eliminate 20,000 employees, and the list that makes the same claim is getting longer by the day.
This plan was passed by a congress that admitted that they did not have time to read the plan before that vote. This plan was signed by a president that admitted that he had not read the plan at the time that he signed it. Nancy Pelosi stated that we needed to pass this plan so we could see what was in it. And yet, from the beginning until the current date, many still are excited thinking that free healthcare is coming because of this garbage legislation. I have said it before, and I will say it again. Those who praise this plan will eventually see it for what it is, but at that time, it will simply be too late to do anything about it.
Vic Damico 2013